Moravian Lovefeast January 4th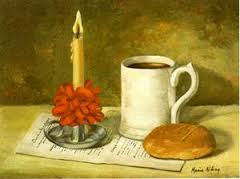 Despite the snowy weather, more than 50 hearty souls, including the Pastor and Sexton of the Poland Community Church, came to worship on January 4th for a MORAVIAN LOVEFEAST .  Think of it as worship and fellowship hour rolled into one.
We had coffee and cocoa and little sweet rolls to munch on while singing the last of the Christmas carols.  We held this service in the vestry, sitting around tables, and combine it with the first Communion service of the new year. 
We have Avis Ford to thank for the scrumptious lovefeast buns, all citrus-y and butter-y.  Yum!  All the hymns and carols sung were accompanied by a little instrumental quartet:  John Terison, flute; Ashley Terison, violin; Emily Bastian, clarinet; Linda Gard, cello.
For those of you who have learned (or half-learned) how to make the lovely little Moravian Stars, here's a great video to help you along…or help you teach others.  Make yourself a mug of tea, coffee or cocoa, and settle in with a great Christmas craft.  MAKE A MORAVIAN STAR