New Gloucester's Community Food Pantry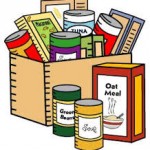 Especially Needed for the June and July Food Pantry Distributions:
Cold Cereal, Jam/Jelly, Crackers, Instant Potatoes(or scalloped or gratin mixes), Fruit Juice in plastic containers, Canned Tuna or Chicken, Peanut Butter, Canned Pasta, Dry Pasta, Jello/Pudding mixes, Coffee, Mayo, Tea—-
(within expiration dates, please!)
And, our clients are always happy to get TP!
Located at the back of 19 Gloucester Hill Road, off Church Road. Open from 8-9:30 AM on the Second and Fourth Saturdays of Every Month.
Open to New Gloucester residents. Quick once/year registration; quick check-in.
Donations of non-perishable food , laundry and hand soap, toilet paper are welcome during the week, when the church office is open. Volunteers, especially folks available on weekdays, are always needed. Cash donations are also welcome(click on the MAKE A DONATION tab above).
FYI: NONE of our current clients have the equipment to use K-cup-packaged coffee.