Whaaaat? We have a Church Orchestra?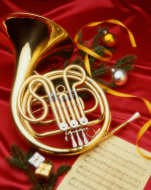 Oh, yes! Even in an ice storm!
On Sunday, December 18, Nancy Wines-DeWan directed our church orchestra—first we know of since the NG Musical Society of 1821! We've had a great response to our sign-up, and expected more than 20 players. Because of the glare ice everywhere, 17 musicians were able to come, almost outnumbering the congregation. We played the prelude, three carols with the congregational singing, and the postlude.
Many of us play often, some are beginners, others haven't played in 20 or 30 years, but we gave it the college try, and had some fun in the process. Click on the songs for two clandestine videos by Peter Chase: O COME EMMANUEL FIRST NOEL