History
This congregation celebrates January 16, 1765, as it's birth-date. Which means that we are now 251 years old. From time to time, as we open up the records of this church to learn about the many individuals and experiences which have influenced its life and spirit, we hope to post here some articles, documents, observations and inquiries which may be of interest to members, friends and those interested in history and genealogy of New Gloucester and the Congregational Way.
HISTORY POSTS
IN THE BEGINNING — click red type for a brief description of the events of January 16, 1765, with a transcription of the church covenant adopted that day
Mysteries, Solved, Lead to New Questions — click red type for an explanation of the long-pondered question: Is the old pulpit that's been sitting in the sanctuary narthex (church-speak for foyer), which we're now using for the anniversary year, really the original pulpit used in the 1770 Meetinghouse? Here are some photo teases to convince you to click the blue title: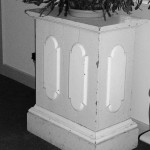 Missions Collection Box — click blue type for Rev. Gard's November 2014 Pastoral*e, which describes this collection box in some detail.