I'm New
Welcome…
NEW IN TOWN? Stop by the church office or give us a call. This might become your church home, and we'd be really happy if it does.  But even if it doesn't, we're your neighbors.  We'd like to meet you and we'll be happy to help you sort out who's who and what's where.  The office phone number is 926-3260.  The church is located at 19 Gloucester Hill Road.  There is a map link on the Home page.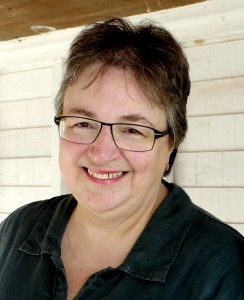 OUR PASTOR IS THE REV. LINDA GARD.  Born in Lancaster, PA, Linda went to Oberlin College and Duke Divinity School, served as UCC Chaplain at Duke (also as a theological librarian), and then as a pastor in central New York.  She was called to New Gloucester in 2001.  In addition to being our Pastor, she helps folks sort out their New Gloucester ancestors, plays cello in the Bates College Orchestra, participates in a book club, leads Ukrainian egg workshops, knits, quilts, likes to bake bread in beehive brick ovens, is an occasional hunter and the proud owner of her grandfather's Ford 8N tractor.    She'd love to meet you!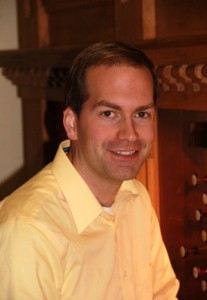 JOHN TERISON, OUR DIRECTOR OF MUSIC, joined us in September, 2012.  John loves the piano, but is crazy about the organ.  We've heard him play his trumpet and a transverse flute, and we've seen him take a lick out of a couple of old violins and a banjo, but we've heard he plays just about every instrument you can name…and he's a fine baritone, too!  If you would like to sing with the Sanctuary Choir(7 pm Wednesday) or play with the Chime Choir(6 pm Wednesday), you are welcome to ANY rehearsal.
WELCOME TO WORSHIP: The worship service begins at 9:30 am each Sunday.  There is no band or wide screen or lucite pulpit, and probably never will be. You might call us traditional, but we're hardly stuffy.  You'll find great music, thoughtful preaching, and good energy in a lovely old sacred space.  Dress is comfortable casual.
There's plenty of parking, and you can enter the sanctuary by the formal entrance you see on our home page, or follow the crowd entering the building from the back parking lot.  That way you'll pass by the Sunday School wing and offices, mingle with the choir, and get a glimpse of the way to the Vestry, where the after-church fellowship hour is held.  There is a wheelchair-accessible entrance (and bathrooms) to the right of the sanctuary front porch.
SPEAKING OF FELLOWSHIP HOUR, look for the folks carrying big RED coffee mugs.  That's their invitation to you to join them in conversation!  Most folks call the fellowship room the Vestry.  It's where the first-Saturday-night-of-each-month Village Coffee House is held–and church fairs, art displays, and community meetings, too.
CHILDREN: We have nursery for infants through age 4, staffed by screened volunteers.  Alternatively, we want parents to know they're always welcome to keep their babies with them
in the sanctuary.  There are plenty of surrogate grandparents ready to lend a hand–and our pastor welcomes a little good-natured competition from time to time.
For ages 5 and up there are Sunday School classes (during the public school year). School-age children start out with the adults in the Sanctuary at 9:30, stay through the first hymn and a special Children's Word, and go as a group to their classes.  At present we have two classes which are loosely graded depending on the children who come.  Some Middle Schoolers opt to stay in worship, others help out in the older class.
SENIOR HIGH YOUTH Our youth are wild and wonderful.  They meet with adult advisors usually weekly on Sundays, though the time varies between right after worship or a meeting or activity later in the day, often with pizza.  Our youth attend many different schools, which we think makes for a much better experience for newbies.

A LONG NAME FOR A CHURCH, ISN'T IT? In case you are wondering about that, here's an answer–also too long, but maybe in addition to being an inquisitive person, you're patient, too!
We are proud to be a congregation of the United Church of Christ.  We're also proud to have joined 48 other UCC congregations in Maine as an Open and Affirming Church.
Most people still use the name "Congregational" because that's what we were called for many generations.  Originally, we were simply called "First Parish."  Back in 1765, when the church and town were formed, the congregationalists were "it"–town and church were one and the same.  That picture changed very quickly after the Revolution, as other protestant groups formed congregations here.
In the 1930's the Congregationalists joined with the Christian Church (a small, like-minded denomination whose churches were located mostly in the Carolinas, Virginia, and New England)…which is why our official name became "Congregational-Christian."  Then, in 1957, the Congregational-Christian denomination joined with the Evangelical and Reformed denomination(big in Pennsylvania and the Midwest) to become the United Church of Christ.  For many reasons, our church, along with many in our area, never dropped the "Congregational" name.  The most honest of those reasons might be that nobody could make us do it (which should tell you something about congregationalists).  Now that the United Church of Christ has been around for more than 50 years and people know the name, folks who come here "from away" can't find us because we DON'T use it.  Go figure.
As long as anyone can remember, our phone book entry has been lost under "First."  But you probably used a search engine to find us.  We're so glad you did.